Hope for Girls and Women, along with our partner Crowd2Map, takes the opportunity to participate in events throughout the year, and around the world, in order to raise awareness of FGM and our work to eradicate the practice in Tanzania. We list links below to register for upcoming events that we will be involved in or would recommend attending. You can also see an archive of previous events.
President Samia's first year in office – a new direction for Tanzania?​ Sat, 19 March 2022 16:00 – 17:30 GMT
President Samia Suluhu Hassan took office on 19 March 2021 after the death of John Magufuli. In this event we will hear from a range of Tanzanian women on the impact for Tanzania of her first year in office, and what it means for women. This will be followed by a panel discussion and a chance for the audience to ask questions. Speakers will include the Hon Zakia Meghji MP, who was the first female Minister of Finance, Ruth Meena, a gender and development expert, with more to be confirmed.
Map Tanzania to support vulnerable girls for International Women's Day - Tues, 8 March 2022
Learn about how tools like OpenStreetMap can help vulnerable girls in Tanzania and how you can help. Crowd2Map have mobilised over 17,000 online volunteers to add over 6 million buildings to OSM in Tanzania the last 6 years. Activists fighting Female Genital Mutilation in Tanzania estimate these maps have helped protect over 3000 girls from being cut. Tumaini is setting up an Open School in Tabora to ensure that girls excluded from education due to pregnancy get a second chance at an education.
International Women's Day Yoga
Tues, 8 March 2022 5:30PM EAT
My Little Zen will lead a virtual yoga session on International Women's Day with girls from Hope for Girls and Women's safe houses participating.
To join on Tuesday at 5:30PM EAT, please use the Zoom info below:
Meeting ID: 929 7652 3893 Passcode: 317730
Reach for the Stars for International Women's Week - Sat, 12 March 2022 10:30AM - 12:00PM EAT
In celebration of International Women's Week - Hope for Girls and Women is hosting a virtual careers event for girls in Tanzania About this event In celebration of International Women's Week - Hope for Girls and Women is hosting a virtual careers event bringing together a number of inspirational women, working in fascinating industries.
Find out about their work, how they got into their roles, and put your questions to them in a live Q&A. Meet speakers from the following organisations: • Bijoux Trendy • Uganda Wildlife Authority • Dunia Safari Camp - Asilia • Girls in Aviation Africa
Screenings of In The Name of Your Daughter
Screenings have taken place throughout 2019 through to 2022. Organised by FAWCO (2020-2022 only), Hope for Girls and Women Tanzania, Tanzania Development Trust & END FGM Canada Network.
Mapathon run by Crowd2Map.

Debating GBV with male villagers
December 2020
Hope held debates with 60 male community members in Bonchugu and Nyamburi villages, Northern Tanzania, on the impact of female genital mutilation (FGM) and other forms of gender-based violence.
Read about these important debates here.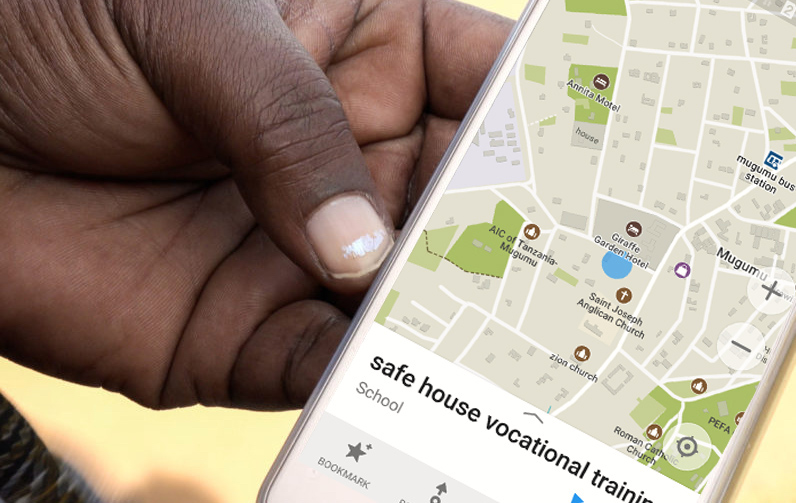 How maps can help protect girls from FGM
November 2020
This virtual event offered attendees an opportunity to hear from Crowd2Map founder Janet Chapman and FGM survivor and activist Rhobi Samwelly about how they are using OpenStreetMap and other open tools to help protect girls from FGM in rural Tanzania. Read our event report here.